Three Ways to Stay Connected to Your Senior Loved Ones While Social Distancing
After more than 45 days in lockdown, it's no surprise that many people are going a tad stir-crazy. But it's far worse for seniors: Not only have visits from their kids and grandkids been suspended, but there's the extra stress that comes with the nagging suspicion that they'll be advised to remain on lockdown long after younger people begin trickling back to work and the world starts opening up again.
In fact, the AARP Foundation has even come up with this dire comparison: Prolonged social isolation, for those aged 50 and older, "is the health equivalent of smoking 15 cigarettes a day." Fortuitously, some of the niftiest technology offers solutions both to keep us connected and protect against some of the miscreants taking advantage of the situation.
• Health Checks. If you are worried that all of the anxiety is harming your loved ones' overall well-being, the machine-learning algorithms that analyze activity data as part of Alarm.com's Wellness solution can provide you with the very details you've suddenly found yourself obsessing about.
Did they open their medicine cabinet when they should, to take their prescription? Have their sleeping, eating, and (yes) bathroom patterns changed? Are they up and about during the day?
All that and more is done by connecting their home to yours via smart-home technology, with real-time smartphone alerts to let you know if something's amiss.
"You don't even know it's there, but it's here to protect you and let someone know if something does go wrong," says Margarete Pullen of Dallas, Texas, whose son had the system installed by an authorized service provider for her and her husband along with a Wellcam video camera with two-way voice capability.
• Movie meet-ups. Most of us are just trying to find novel ways to cope with a situation that Nicholas Christakis, a social scientist and physician at Yale University, told Science magazine "calls on us to suppress our profoundly human and evolutionary hard-wired impulses for connection."
Google's new Netflix Party extension lets friends and family watch – and video-chat their way through – a movie together on their computers. You'll need a NetFlix subscription, but then you're free to debate if the Tiger King is worth all the hype and whether Carol Baskin really did kill her husband. Plus, unlike in real theaters, not many people (if any) are physically there to complain if you're making too much noise eating popcorn.
• Apps! Apps! Apps! No NetFlix subscription? With apps such as FaceTime, Skype, Houseparty and Zoom comes more proof that social distancing needn't mean social disconnecting. Mass virtual dinner parties. Mass virtual "happy hours." Mass virtual gym classes. They've all become quite the rage, with one Vermont couple in their eighties even touchingly using Apple's FaceTime to see and talk to each other after the husband had to be put in a nursing home that bars visitors during the pandemic.
Want to be a hero in your neighborhood? Use an app such as Instagram to share a video of someone Alarm.com's doorbell cameras caught swiping one of the many, many packages you've been having delivered.
Tips to Stay Healthy this Cold and Flu Season



(NewsUSA)

– The end of summer and beginning of fall is an exciting time for all. With pumpkin picking, hayrides, and spooky festivities to look forward to, it is crucial that everyone is prepared to tackle the onset of cold and flu season so that those crisp-air activities can be fully enjoyed. Dr. Shirin Peters, a NYC internist at Bethany Medical Clinic, provides tips ahead of cold and flu season on how to best prepare and stay healthy."Autumn is a fun time to participate in outdoor activities with family and friends, but sometimes we forget that cold and flu season is beginning, and we are not always prepared," says Dr. Peters. "My tips below are designed to help people of all ages be prepared ahead of cold and flu season and remain healthy."* Get vaccinated. Mask wearing and social distancing contributed to a less-severe-than-normal cold and flu season during 2020-2021, and with COVID-19 restrictions expected to continue to decrease, it is more important than ever to get vaccinated. The CDC recommends all persons aged 6 months and older receive an annual flu vaccine as they are safe and proven to be effective in preventing sickness, and reducing the risk of having flu-like symptoms. The pandemic is ongoing and flu-like symptoms require COVID testing and potential quarantine at home, which is what many seek to avoid.* Keep your body moving. It is estimated that people who exercise 30 – 45 minutes a day experience 40% – 50% fewer sick days. Whether it be taking a daily walk during your lunch break, jogging in the morning, or attending a workout class with a friend, keeping your body moving will help you avoid getting sick. If you're new to daily exercise, try starting small by incorporating 2-3 workouts/activities a week and gradually increasing over time.* Stock your medicine cabinet. Take advantage of the time that you are feeling well to prepare your medicine cabinet for when you're not. Throw out any expired medications and replace with fresh decongestants and antihistamines. And be sure to remember to pick up fever and pain relief products as well as a cold shortener so you can get back on your feet quicker. Zicam RapidMelts® and Zicam Cold Remedy Nasal Spray® are great products, as they shorten colds versus just temporarily relieving symptoms.* Stock your pantry. It's important to stock your medicine cabinet in preparation for cold and flu season, but it's also just as important to stock your pantry. Having comfort foods and energizing drinks on hand for when you're not feeling well is crucial in your recovery process. Try stocking up on frozen vegetables, which will provide your body with nutrients when you're feeling sick, ice pops, which will soothe a sore throat, and chicken soup, which will help eliminate chills.* Create a cleaning routine. It has been proven that cold and flu viruses can survive for days on uncleaned surfaces such as metal, plastic, and wood. So cleaning household surfaces and objects is one of the best precautions you can take to protect yourself and your family from contracting illness. Create a twice- weekly cleaning routine in which you heavily soak countertops, doorknobs, and TV remotes with antibacterial, bleach and hydrogen peroxide products. About Shirin Peters, M.D. Shirin Peters, M.D. attended college at New York Medical College and completed her residency at the Former St. Vincent's Hospital in Manhattan, NY. The following year, she worked at a private practice in North Carolina and learned more about the business of medicine. She returned to New York City and founded Bethany Medical Clinic of New York in 2011. She feels that New Yorkers face unique health challenges and set out to build a model of care that could reduce illness and improve health for New Yorkers and all city-dwellers. She uses her diverse past work experiences, and her understanding.



COVID-19 Info for People with Disabilities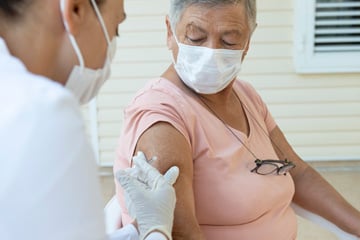 (NewsUSA)

– Getting vaccinated is the most important step we can all take to protect ourselves and our loved ones from COVID-19, but for many people with disabilities, getting vaccinated has proven to be difficult. The Disability Information and Access Line (DIAL), a first-of-its-kind national call center, can help.DIAL connects callers to information about local vaccination locations and can help with the often-complicated process of securing and getting to vaccination appointments. Trying to figure out if it is possible to get an in-home vaccination? DIAL can help look into this with you, and connect you to local advocacy organizations that have a better idea of which sites near where you live are the most accessible to people with disabilities. The hotline also can provide information and resources to answer questions, address concerns, and make informed choices about the COVID-19 vaccines that are available in their communities.DIAL is a much-needed resource that people with disabilities can use to stay healthy during the COVID-19 pandemic. And for those who may need additional support, DIAL can also direct callers to local disability organizations that may be able to help with other needs, such as access to safe and affordable housing, food and mental health support.Ready to make a call for yourself or someone else? Connect with Information Specialists — in any language — at 888-677-1199 from 9:00 AM to 8:00 PM ET, Monday-Friday or email [email protected] for assistance.